Moscow aims to take 'full control' of Ukraine capital by diplomatic or military means, according to France
Vladimir Putin has told Emmanuel Macron that Kyiv's "refusal to accept Russia's conditions" means he will continue to pursue his war in Ukraine, the Élysée Palace has said, adding: "We expect the worst is yet to come."
As the number of refugees fleeing the conflict passed 1 million and Russian forces, backed by heavy shelling, advanced on cities and key ports in the south and east, Russia's president said in a 90-minute call to his French counterpart he was "prepared to go all the way", the French official said.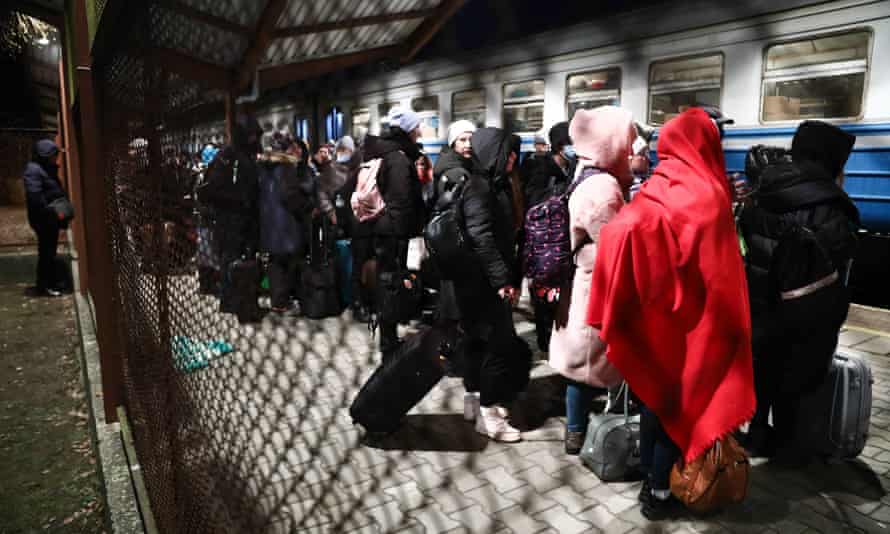 Putin said Moscow aimed to take "full control" of the country by diplomatic or military means and repeated his objective was what he claimed was the "neutralisation, demilitarisation and de-nazification" of Ukraine, the official said.
Macron had responded that Putin was making a "major mistake" that would cost Russia dearly over the long term. "There was nothing in what President Putin said to reassure us," the official said, adding that Macron had told him he was "lying to himself".
As talks between Russian and Ukrainian negotiators got under way, the Russian leader said separately that the invasion – which Russia still calls a "special military operation" – was going according to plan and praised Russia's soldiers as heroes. "All the tasks that have been set are being successfully resolved," he said.
Putin claimed in a television address that Moscow's advance was progressing even as his troops appear to have made slower progress than many experts predicted. "I want to say that the special military operation is going strictly according to schedule," he said, opening a meeting with his security council.
In Moscow, the Kremlin spokesperson, Dmitry Peskov, dismissed rumours that the government, faced with international condemnation and deepening economic isolation, was about to introduce martial law, which would include border controls and military censorship. The reports, which have sparked a small-scale exodus, were "hoaxes", Peskov said.
Putin's forces, meanwhile, were battling to control several southern cities including Enerhodar, the site of Europe's largest nuclear plant, as part of what appears to be a plan to cut Ukraine off from the sea, stifling its economy but also creating a land corridor stretching from Russia westwards to Romania.
The regional governor in Kherson, on the Black Sea, said on Thursday that Russian soldiers had occupied the regional administration building, after the city's mayor said Russian soldiers were in de facto control of the local council building.
"I didn't make any promises to them … I just asked them not to shoot people," said Ihor Kolykhaiev. The apparent capture of Kherson, strategically located at the mouth of the Dnieper River, marks the first significant urban centre to fall since Moscow launched its invasion on 24 February.
Mariupol, another large port city on the Azov Sea, was also reportedly encircled and without light, water or heat. The city council said the shelling had been relentless and Russian troops were creating a "humanitarian catastrophe" by trying to prevent civilians leaving.
"They are breaking food supplies, setting us up in a blockade," the council said. "Deliberately, for seven days, they have been destroying critical life-support infrastructure. This is genocide of Ukrainian people."
Residents of Odesa, Ukraine's biggest port city and a vital link in Ukraine's economy, were also preparing to defend it amid warnings of an imminent Russian seaborne landing. Airstrikes on the city have multiplied and a Russian naval convoy of at least eight ships was seen off the coast.
Ukrainian negotiators who met a Russian delegation for talks on Thursday with the objective of securing an immediate ceasefire said the two sides had agreed to hold a third round of talks soon and "reached an understanding" on the joint provision of humanitarian corridors to evacuate civilians.
"Not everywhere, but in those places where the humanitarian corridors themselves will be located, it will be possible to cease fire for the duration of the evacuation," said the Ukrainian presidential adviser Mykhailo Podolyak.
The Ukrainian president, Volodymyr Zelenskiy, warned that if the west did not increase military aid, Russia would advance on the rest of Europe. "If you do not have the power to close the skies, then give me planes!" he said. "If we are no more, then, God forbid, Latvia, Lithuania, Estonia will be next."
Zelenskiy called for direct talks with Putin, saying it was "the only way to stop this war". Ukraine was "not attacking Russia … What do you want from us? Leave our land." The Ukrainian president said in an earlier video his country's defensive lines were holding and praised the nation's resistance.
Heavy shelling was again reported in Ukraine's second city, Kharkiv, a city of 1.5 million people where emergency services said 34 civilians had been killed in the past 24 hours. A university and a hospital were hit, and TV footage showed a city-centre wasteland of ruined buildings and debris.
Russia's advance on the capital, however, had made little progress, the UK's defence ministry said. "The main body of the large Russian column advancing on Kyiv remains over 30km (19 miles) from the centre, having been delayed by staunch Ukrainian resistance, mechanical breakdown and congestion," it said.
Kyiv's mayor, Vitali Klitschko, said the situation in the capital was "difficult but under control", adding that there had been no casualties overnight and that explosions heard overnight were Ukrainian air defences striking down incoming Russian missiles.
The UN human rights office has confirmed the deaths of 227 civilians and 525 injuries during the fighting, but said the actual toll would already be much higher. Ukraine has said at least 350 civilians have died and more than 2,000 have been injured.
The UN refugee agency said the number of people fleeing the country had surpassed 1 million by early Thursday morning – about 2% of Ukraine's population of 44 million – adding that "at this rate" the exodus could make the country the source of "the biggest refugee crisis this century".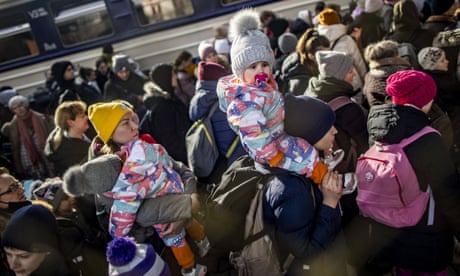 The Russian attack has led to a barrage of international sanctions that have plunged Russia's economy into chaos and ever deepening isolation. The rouble again hit record lows on Thursday after the credit ratings agencies Fitch and Moody's downgraded Russia's sovereign debt to "junk" status, while an estimated 80% of Russian banks' assets – and half its central bank's reserves – had been immobilised.
French authorities on Thursday seized the Amore Vero, a superyacht owned by a company linked to Igor Sechin, chief executive of the Russian energy giant Rosneft, at La Ciotat, near Marseille, after reports that German authorities had seized the superyacht Dilbar belonging to the billionaire Alisher Usmanov on Wednesday.
The White House imposed additional sanctions on more Russian oligarchs including the billionaire businessmen Boris and Arkady Rotenberg and Usmanov, one of Putin's closest allies, as well as Peskov, the Kremlin spokesperson. The US also imposed visa bans on 19 oligarchs and their family members." These individuals and their family members will be cut off from the US financial system; their assets in the US will be frozen and their property will be blocked from use," the White House said.
The international criminal court has opened an investigation into possible war crimes after an unprecedented number of countries backed the move. Karim Khan, the ICC's chief prosecutor, said he would begin work "as rapidly as possible" to look for possible crimes against humanity or genocide committed in Ukraine.
Thank you for joining us from India.
The truth, they say, is the first casualty of war, more so at a time when misinformation spreads so rapidly. But with correspondents on the ground on both sides of the Ukraine-Russia border, in Kyiv, Moscow, Brussels and other European capitals, the Guardian is well placed to provide the honest, factual reporting that readers will need to understand this perilous moment for Europe, the former Soviet Union and the entire world.
The Guardian has an illustrious history of persistent, independent reporting in the region. We know there is no substitute for being there, and were on the ground at all the critical moments - from the 1917 revolution and the Ukrainian famine of the 1930s, to the collapse of 1991 and the first Russo-Ukrainian conflict in 2014. And we will stay on the ground through this frightening period as well.
Tens of millions have placed their trust in the Guardian's fearless journalism since we started publishing 200 years ago, turning to us in moments of crisis, uncertainty, solidarity and hope. We'd like to invite you to join more than 1.5 million supporters, from 180 countries, who now power us financially – keeping us open to all, and fiercely independent.
Unlike many others, the Guardian has no shareholders and no billionaire owner. Just the determination and passion to deliver high-impact global reporting, always free from commercial or political influence. Reporting like this is vital for democracy, for fairness and to demand better from the powerful.
And we provide all this for free, for everyone to read. We do this because we believe in information equality. Greater numbers of people can keep track of the global events shaping our world, understand their impact on people and communities, and become inspired to take meaningful action. Millions can benefit from open access to quality, truthful news, regardless of their ability to pay for it.